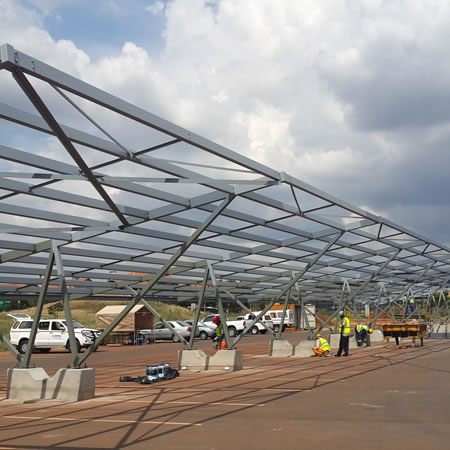 Sustainable savings in retail development
Published in September 2016 issue of Shopping SA.
Sustainability may have been the talk of the town these last few years, but it is only now that real progress is being made in the design development of systems and specifications which substantially reduce the energy demand of shopping centres. Energy prices are climbing at a disproportionate rate across the continent but at the same time photovoltaic (PV) technology is getting better and cheaper.
Shopping centres are well placed to gain maximum benefit from natural resources like the sun. The maximum energy load is usually between 10am and 4pm where air conditioning load is at its greatest. Air conditioning has also traditionally been the greatest energy user in any shopping centre.
Energy from car park rooftops
As a result of developers insisting that design and specification should lower energy demand, shopping centres now being developed more often than not include multiple energy reducing measures including the installation of PV on the roof or over car parks.
SVA is at the forefront of this new technology and our teams are well placed to assist the developer in coordinating the specification and installation of these energy reducing measures.
New utility finance options
A new initiative is the advent of utility providers who offer the developer the option to have utility demands such as water, back-up power and sewerage designed and installed at no upfront cost by a third party who is able to then enter into an agreement to sell this service including maintenance over time, to the developer.
The inclusion of new sustainable technologies and affordable utility systems ensure that the development model for shopping centres, which has remained constant for a long time, is changing fast.
By Franc Brugman (SVA International , Johannesburg)
Published in 'Shopping SA': magazine of the SA Council of Shopping Centres,
Convention 2106 edition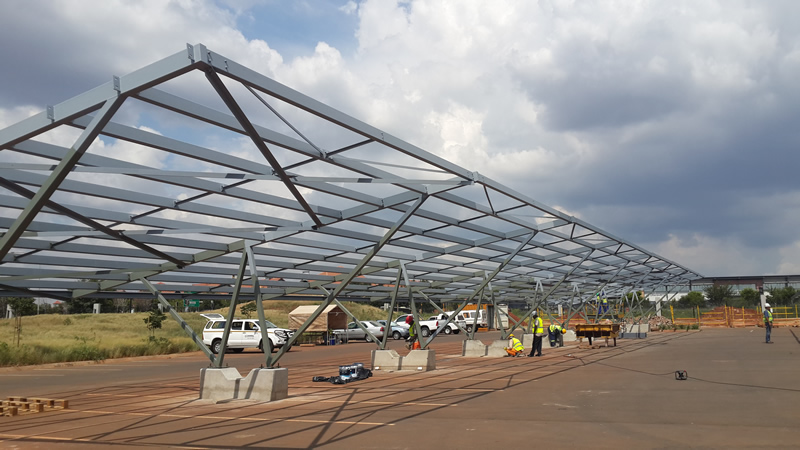 ---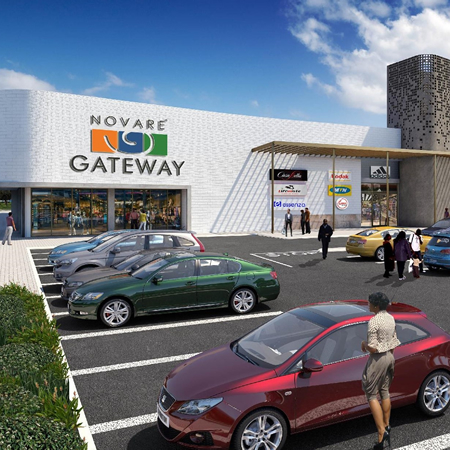 Changing retail design and development in RSA and Africa
Published in September 2016 issue of  Shopping SA.
As South African cities mature, and as rapid urbanisation and continued development occurs, particularly in the larger metropolitan areas, high density urban retail centres are increasingly well-placed to become the next showcases of retail.
Isolated greenfield sites along the highways are yesteryear's problem and are part of divided, unsustainable urban planning arrangements. New centres are being generated around urban transport routes and nodes.
Enlightened local authorities are prioritising transport-oriented development which is helping to open up attractive  options.  Far-sighted developers are realising this generates a new wave of retail opportunities.
Due to traffic congestion, the high cost of land and the demand for higher densification of the inner city nodes, developers are also increasingly looking at mixed-use developments where retail, residential, leisure and commercial office space are developed side by side or above each other, creating exciting new nodes where city dwellers are able to live, work and play without transport or congestion restraints – a true realisation of the sustainable city.
Reinventing the traditional enclosed mall
Traditional and existing large regional shopping centres are undergoing continual rejuvenation through upgrades, refurbishment and expansion, all in response to increased competition within a marked economic global downturn. A lack of available viable greenfield sites, increased traffic congestion and development, and the cities' demand for higher density nodes, are ensuring shopping centre developers are having to reinvent the traditional enclosed mall and line shop retail formula.
The traditional mix of the usual tenants along tried and tested mall layouts no longer ensures shopper loyalty. Shopping centres are increasingly having to lure shoppers with more distinctive and exciting layout, design and finish, a greater mix of tenants, an enhanced look and feel and most importantly a differentiating factor which sets the centre apart from its competition.
The basic rules of shopping centres have not disappeared, but the design, tenant and management ante have to be lifted to ensure loyalty and longer dwell times by shoppers who require in essence to be enthralled by the sheer excitement and experience of shopping in a retail environment that adds layer upon layer of added opportunity, shopper service and enjoyment in one of South Africa's greatest past times. SVA's creative team are at the forefront of pushing these new design boundaries in creating retail centres of distinction and economic viability.
The Sub-Saharan scene
In Sub-Saharan Africa , the retail challenges being faced are similar but developments in these markets are coming off a far lower base than in SA. Developers are having to come up with new and varied approaches to shopping centre design to meet the socio economic conditions experienced across the continent. Due to a basic lack of infrastructure and efficient public transport, increasing retail competition, pressures of a global slow down and the rapid devaluation of local currencies (especially in West Africa), lack of viable and affordable land to develop, coupled with continued and increasing urbanization, developers are increasingly having to look at new design development models to counter a very fluid and changing market.
Mixed-use developments are increasingly being considered in high value locations. African city planning regulations allow for mixed-use projects where developers are able to push the bulk and economic potential of sites to the full.
However, due to the ever present traffic congestion experienced in most African cities, and the lack of viable locations for shopping centre sites, a new model of smaller, more conveniently located shopping centres is also taking shape as developers look at ways to meet the demands of both retailers and tenants.
Whilst these newer more nimble centres are able to offer better rentals due to lower energy and construction costs, architectural effort is made in ensuring the centres are truly community oriented. Architectural standards are not compromised, comfortable food and entertainment nodes are developed and a good mix of convenience shops serves the needs of that community. These are all integral to the design development of these smaller centres.
   by Garth Hamilton (MD, SVA International) and Franc Brugman (SVA International, Johannesburg )
Published in 'Shopping SA': magazine of the SA Council of Shopping Centres,
Convention 2016 edition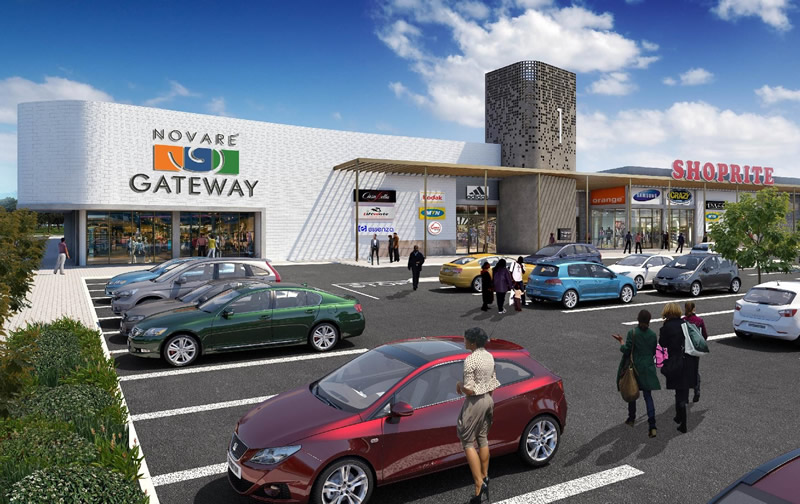 ---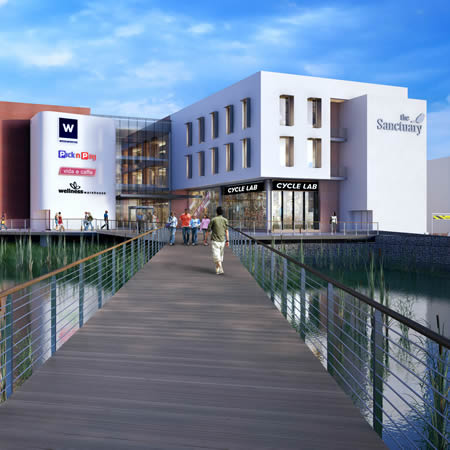 The Sanctuary – Somerset West
Published in August 2016 issue of Architect and Builder
Bounded by the majestic Hottentots-Holland mountains and scenic False Bay coastline, Somerset West has become a drawcard for middle and upper-income residents and retirees.
Being linked to a nearby Gordon's Bay and the Strand, the densification around the existing Somerset Mall has been ongoing – with the recent addition of Helderburg Hyper, motor showrooms along the N2, office developments and residential developments like De Velde.
Currently, retail requires a market niche to be successful. Abacus as a retail developer has proven their ability to identify these niche areas and develop successful neighbourhood centres. The Sanctuary site within the Somerset West retail triangle was identified for mixed use development, with good visibility from the Broadway thoroughfare.
Designed around an existing storm water retention facility and waterfowl habitat, this presented an attractive feature – but came with significant environmental challenges. These included a requirement to replace every linear meter of existing water edge in the new design, with the same orientation, to maintain bird habitat. An island and sand embankment slopes were designed to accommodate nesting requirements.
In addition, construction work could only commence once the water-birds had left for migration northwards and the project's completion must be completed before their return for the Cape summer. The retention facility used to dry up in summer, so inflow and outflow points have been redesigned to create a year-long water body. This turns it into a real bird-friendly wetland, making the name 'Sanctuary' not a misnomer.
At vehicle access points, small pockets of convenience parking are provided with easy access to the super basement below that connects all entrances.
The development is designed as a group of three separate buildings which public spaces in between. They come together in a public square which combines modern and traditional architectural styles. Covered with a translucent roof, the public square spills out to where restaurants line the water's edge.
The Sanctuary is a true mixed use development with some 9000m² GLA retail on ground floor, a 4000m² gym on the first floor, offices on first and second floors making up a combined total GLA of 16 000m². The centre is anchored by Pick 'n Pay, Woolworths, Virgin Active Gym and exciting new restaurants.
---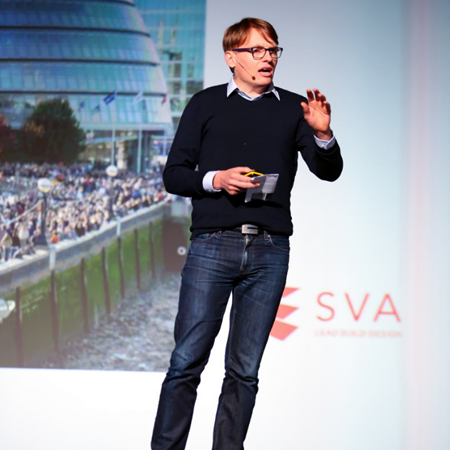 How David Blaine changed my thinking on Green Buildings
Paper presented at Green Building Council of SA Convention July 2016 by Bruce Wilson, SVA International, Cape Town.
I began my architectural career in London in 2003, just as the performance artist David Blaine was starving himself in a glass box above Tower Bridge, and environmentalists were taking rather immodest thermal images of Norman Foster's new and ostensibly sustainable London City Hall.
Like all good art, Blaine's 44-day stunt made piercing social comment on a number of levels. One observation we know intuitively: life in a glass box is unbearably hot by day and untenably cold by night. This comment stung, as a number of the now-built glass towers in London were being considered for planning permission. Most applications included strong environmental arguments (and several green building ratings) as a means to justify the highly-contested scale and aesthetic of the buildings.
The Blaine / Foster juxtaposition portended a cognitive dissonance I would later experience in my career: Simply put, there was almost no difference in the way I was designing a few 'green buildings' and several wantonly unsustainable buildings. Unsettled by this, I asked the basic question: can a glass box be a green building? My shotgun research brought some interesting findings.
A terrific series of state-sponsored research called the Long Term Mitigation Scenarios maps South Africa's 'Business as Usual' emissions trajectory to 2050, showed what is 'required by science' to limit global warming to 2deg above preindustrial averages, and where our current policies will take us. Further, in the tradition of South African Scenario Planning, the authors named the scenarios needed to close the gap (one pathway is aptly called 'Use the Market').
Valid criticism notwithstanding, this research revealed the troubling reality that our current environmental performance is measured and reported against the current policy pathway, and there are little to no benchmarks defining the 'required by science' emissions trajectory.
My basic question yielded more paradoxes (or so it seemed to me). For example, we have 'demand-side efficiency' preached as though it were the source of life itself. Yet, as far back as 1865 one Mr Jevons gave the comforting news to coal barons that massive efficiency gains in the steam engine would in fact lead to greater aggregate demand for coal. Yet, the Jevons Paradox (later to become known as the 'Rebound Effect') only began to feature meaningfully in climate modelling in 2012 and is yet to enter the green building discourse.
And so it went on: Lord Stern's seminal 2007 pricing of the consequences of climate change included a carbon pollution price at $310 per ton; yet later research showed that societies will pay about 3% of this, with widespread social upheaval the consequence for higher pricing.
Since 2005 the New Economics Foundation has been publishing data showing that global stock markets carry five times the amount of carbon we can burn by 2050 in current asset prices. Ergo, either there is an almighty 'correction' headed our way, or we must plan for an unimaginable amount of stranded carbon-based assets.
So can a glass box be green? I think we need to relocate this question into the world where we aspire to make abundant clean energy cheaply, not constrain energy supply and demand. From this we should determine the scientific benchmarks for green buildings within the global context, not merely a self-referential local property context. We could change our green building performance reporting language to one that measures drift from the scientific target, not one that measures improvement on Business as Usual.
We cannot wait for regulation, as hydrocarbon majors have captured regulators1. Instead, we must 'use the market' to devise financial instruments and self-generated investment policies that effectively link the global scientific consensus with the on-the-ground engineering interventions that currently define green building practice.
1. Tyler, E. 2010. Aligning South African energy and climate change mitigation policy. Proceedings of the conference held at the University of Cape Town, 23-24 March 2010.
---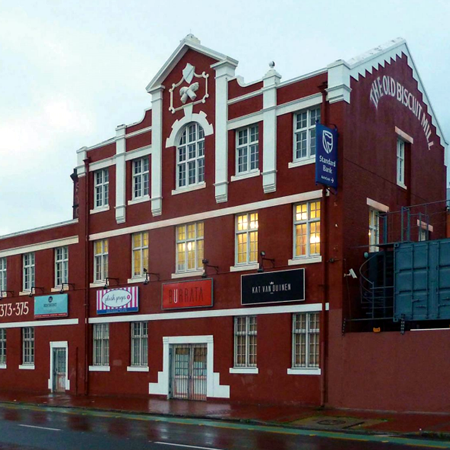 SA's heritage holds key to economic growth
Published 13 Jun 2016 in Property Wheel
"Protecting heritage buildings is a financial, rather than sentimental strategy – and one which will unlock sought-after economic returns for the region." So says Port Elizabeth heritage building expert Bryan Wintermeyer of SVA International architects, who holds a master's degree in the conservation of the built environment.
"We need to start thinking about heritage as an economic resource as opposed to an economic burden,"said Wintermeyer."Rather than focusing on the obligation to preserve the baggage of the past for our children, we need to adopt a more contemporary heritage approach and talk about heritage as a way of using the past."
Heritage creates investment opportunities and is a catalyst for economic development. Early twentieth century and post-war buildings tend to have the added benefits of solidly built with generous room sizes", Wintermeyer said.
"An older block of flats usually has fewer and bigger units. So we turn a block of 10 units into 20 and suddenly the business plan is looking good. And it's relatively quick because zoning and other issues are already in place."
"In addition", he says, "agencies like Trust for Urban Housing Finance (TUHF) provide bridging finance for entrepreneurs and developers focusing on inner city redevelopment, where many of the older buildings are located".
"For them it's a business case and the numbers work. Inner city sites are safest, get the most returns and are good business." For developers like Himat Ramsugit, who has been buying residential fixer-uppers for over a decade, PE's inner city areas like Central, Korsten and North End present a wealth of opportunities.
"I bought my first dilapidated property in Albany Road, which was a haven for criminals and prostitutes. I immediately refurbished this building and began looking around the Central area for other opportunities," said Ramsugit, whose latest projects with SVA International includes Murray Mansions and the adjacent Murray Court in the same street.
"Central has been transformed and is still being developed, with much fewer dilapidated buildings and the streets being kept cleaner, thus making it more habitable – and the demand for rental property is increasing."
As a member of the national Association of Professional Heritage Practitioners and Mandela Bay Heritage Trust, heritage work remains a particular passion for Wintermeyer. "In 10 years' time, we'll be thinking of heritage the same way we do the environmental impact – it's just something developers have to do as part of their process."
---
South African architecture set for significant changes
Published 3 May in Engineering News.  
THE South African architectural industry is changing so radically and with such speed that current business practices will be virtually unrecognisable a decade from now. This is according to leading architectural firm SVA International, which has been a major industry player for the past 73 years. Formerly known as Stauch Vorster Architects, the company rebranded after amalgamating with engineering practice GIBB Africa last year to become a multi-disciplinary, BBBEE Level 3 company. With designs on expanding its current continental footprint, the new-look SVA International now has regional offices in Johannesburg, Durban, Port Elizabeth and Cape Town with further bases in Lagos, Maputo and Mauritius.
Speaking following the relaunch of SVA's Cape Town offices recently, Garth Hamilton, the new managing director of SVA, said "digital integration" would be the definitive driving force behind the new era of architecture and building practice in South Africa.
"We anticipate that the changes in our industry and especially the means of production which defined recent years are just the start. The next ten years will usher in a new and more radical revolution.
"While innovations so far have fundamentally changed the collaborations that underpinned our industry, the demands of the future – among these being fast urbanising cities, increasing socioeconomic volatility, the changing nature of public-private ownership, new financial models and systems, artificial intelligence, global manufacturing and space travel – all present scenarios that offer new challenges and opportunities that will add further dynamism to change in our business."
Last month, SVA International became the first practice in South Africa to introduce the A360 Collaboration for Revit software on a national level. Released locally in January, the software ushered in a new era in building information modelling by allowing multiple users to work on BIMs in a live, cloud-based environment.
The software has already enabled the Durban, Cape Town and Port Elizabeth offices of SVA to work together seamlessly on several projects.
In addition, Hamilton said SVA was now able to offer a multi-disciplinary approach to its in-house design-led services, which made project coordination much easier and resulted in significant time savings.
"The new digital technology enables all roleplayers involved in a project to work on the same technical platforms and log their activity on a shared production interface. We are able to consider a much wider range of options and include inputs from all the parties simultaneously.
"The possibility of integrating in real time the variety of inputs that inform design is being practiced in many fields already, and will be the discerning distinction of the architectural office of the future."
He said his company had been impelled to keep pace with ever-improving production technologies in an effort to work faster and more efficiently in delivering a turnkey service to clients in the commercial and public sectors.
"It all comes down to scale. Not just of the buildings we are able to produce but also the timeframes in which we are able to create them and the size of the teams required to do so," said Hamilton.
Structures that took three years and a team of 10 to design and build a decade ago are now being completed in less than a third of that time by one or two architects, he said, with reduced margins being passed on to clients.
"The next 10 years will see even further efficiencies and effectively make the way we do things now obsolete. Among these changes will be the simultaneous capture of all inputs from our team and any consulting professionals on a project, which will streamline both the timing and associated costs to clients.
A second-generation architect, the 53-year-old Hamilton has seen many social and technological changes first-hand but, he said, SVA International's on-going challenge was to keep pace with the ever-increasing speed of continuous advancement.
"Because of these changes in the pace and scale of our production, new possibilities and different types of building solutions are also emerging. We are determined to lead the trends, not follow them."
---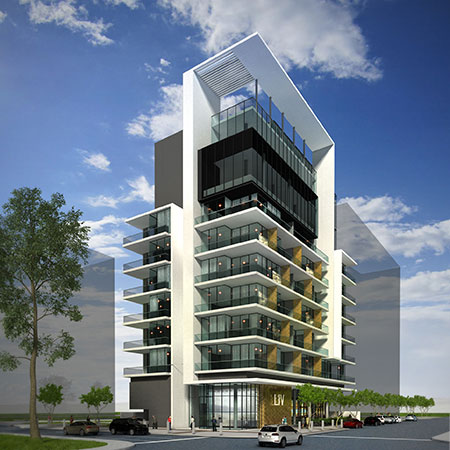 SVA International – Partners in the industry's progress
Published May 2016 in SA Property Review
The roots of SVA International go back to 1943, when Bauhaus-trained architect Hellmut Stauch established Stauch Vorster Architects with Robin Vorster in Pretoria. Stauch was a leading practitioner in the area's Regionalism Movement during the 1940s and 1950s, and respected lecturer in design at the School of Architecture at the University of Pretoria.
Originally concentrating on domestic architecture, larger commissions and public projects followed, influenced by Modernism and the Brazilian Movement which saw the firm growing into a leading national practice hallmarked by cognizance of local conditions, economy of materials, and efficient integration of function.
The practice gained momentum in the metropolitan centres and set up offices in Johannesburg, Cape Town, Port Elizabeth and Durban. With the democratic era, SVA became pioneers in working beyond South Africa's borders. Project experience in the past 20 years ranges from the north (Egypt, Libya, Algeria, Sudan) to the east (Ethiopia, Uganda, Kenya, Tanzania), the west (Cameroon, Nigeria, Ghana, Ivory Coast, Gambia, Senegal), Central Africa (Gabon, Congo, DRC, Angola, Zambia), and our neighbouring countries. The company now has offices in Nigeria, Mozambique and Mauritius.
After almost 75 years and more than 1000 projects, these points of presence throughout the continent have enabled SVA's evolution into a leading multi-disciplinary architectural firm in Africa.
Collaborative design
Now a member of the GIBB Group of companies and rebranded as SVA International, the majority black-owned, BBBEE Level 3-rated firm encourages a collaborative process among its 100-plus professional staff in the various offices. Dialogue and design excellence develop appropriate and unique solutions to each project requirement, including aesthetics, context, budget and timing. Key to success is developing mutually beneficial relationships with clients, consultants, contractors and end-users.
All borders are fluid – between offices, countries, sectors and disciplines. The digital era means that SVA International is at ease servicing clients based, for example, in Cape Town but building in Kinshasa. Harnessing technological advancements means that the practice can assure clients of a continuity that shrinks geographical distances. SVA International responds dynamically to the changing demands of the market locally and further afield, through its geographical spread and diverse knowledge and expertise across sectors.
The practice is headed by Garth Hamilton working from the Cape Town office. Himself the son of a prominent architect, Hamilton says he feels privileged to lead the "venerable organisation" and draws on his early experience of working in the built environment at the time of South Africa's liberation: "The growing pains of the new country informed my identity as a South African architect, and indeed shaped the way the entire practice developed, bringing a consciousness of the transitions of society and the different needs that architecture must respond to so as to meet the challenges of our nation, which was (and still is) forging a culture of humanity and diversity."
Strong relationships, multi-sector skills
Paul Symondson, a director of SVA International's Johannesburg office, sees the company's approach as always being to nurture an understanding of the people, places, cultures and environments wherever they work. "We establish context, forming and maintaining local relationships, learning to adapt to an ever-changing social, political and commercial landscape. We listen to and understand needs, respond to dynamic forces, and lead through knowledge and experience, building new collaborations in creating exciting and appropriate designs and developments.
"We have established strong links with a broad spectrum of international brands and operators to add insight and value. In this way we can optimise potentials for development in established and expanding markets. SVA International's multi-sector skills are especially relevant in the design of mixed-use environments across the continent, bringing in the energy of diverse players from across the spectrum of the development industry."
Conrad Debaveye has long been a key player in these pioneering projects, and is widely acknowledged as a leading figure in the hotel, hospitality and mixed-use development industry across the continent. Kevan Moses, as managing director of SVA from 2008-2015, led the highly acclaimed Long Beach and St Regis Resort projects in Mauritius, with both completed developments being rated within the Conde Nast Top 100 Resorts of the World. Tinus van der Westhuizen, Paul Symondson and Franc Brugman lead the extensive and highly experienced retail design teams.
Adds Kevan Moses: "SVA has an edge in being able to bring together expertise in all sectors. We have a breadth of experience and long-standing relationships with fellow consultants in all disciplines, sharing intelligence in pursuing efficiency with excellence."
Evidence of this is SVA's long involvement with SAPOA, which it joined in 1999. Since then the company has been involved on many platforms of SAPOA, and is one of the long-standing sponsors of the flagship Property Development Programme (PDP). True to its multi-disciplinary nature, SVA also has a long history with other industry and professional associations.
The GIBB alliance
As the demands – and opportunities – presented by 21st century urbanism and its African client base grew, SVA sought a partner who shares its entrepreneurial vision. Out of this came a formal relationship with GIBB one of the largest black owned multi-disciplinary engineering consulting firms which has a far-reaching portfolio of major works and a prodigious ability to shape the built environment in Africa.
As a member of the GIBB group of companies, SVA International remains a fully independent architectural practice, which now can expand its client offerings through the strategic advantages of the alliance.
At the urban level, the firm is able to present solutions that include strategic spatial plans and settlement design, master planning and precinct plans, urban design frameworks and form-based codes.
Expertise spanning across project types
On the architectural front, expertise spans across the project typologies including mixed-use complexes, integrated waterfront developments, commercial and retail buildings, convention centres, education, health and science facilities, hospitality spaces, sport and leisure venues.
While the practice's specialist knowledge and support was already available from one office to another, ensuring maximum benefit to clients irrespective of where projects are located, SVA International can offer a multi-disciplinary building solution that, within the traditional South African context, would have been provided by a number of different companies.
By retaining a combined multitude of skills in what is to all intents and purposes an in-house environment, SVA International has the ability to seamlessly and reliably deliver turnkey solutions to a wide variety of different clients.
Putting the brief first
SVA International's success stems not only from its architectural, urban design and project management skill sets. A large part of what the practice does differently falls under the somewhat antiquated description of client service – a service that Hamilton and his team have taken into a fully modern context.
"We've been interpreting client needs since 1943," he says. "And we have learned, over the years, to listen closely before responding to briefs. Before we even start to draft concepts, we undertake to fully understand our clients' economic and commercial imperatives, which is vital if we are to present innovative, relevant ideas that enhance their vision."
SVA International also undertakes to be upfront about foreseeable risks inherent in the brief. This circumvents potential set-backs down the line and keeps unnecessary costs down.
Sustainable design
SVA's design philosophy has always been about creating environmentally and socially responsive buildings. Consideration of the impact of new projects on our environment and society, together with the form, function, and architectural language of a project, are integral to the process.
With a number of accredited green building professionals on staff, buildings are conceptualised which provide efficient, comfortable surroundings, reduce energy and emissions and prevent health risks.
A pressing social need in South Africa today is student housing, especially when combined with innovative financing systems. SVA's Durban office led by Francesco Coppola has particular experience in the field and a variety of projects are in the pipeline.
Heritage and urban regeneration
While SVA International seeks a sense of architecture and urbanism that matches the pace of socio-economic, political and technical change, an understanding of the relevance of the local context is always paramount.
This is evident in its expertise in restoring and renovating historic buildings, guided by strict aesthetic, structural and legal requirements. SVA International's Port Elizabeth office under Debbie and Bryan Wintermeyer has gained an enviable reputation in this arena, which includes heritage impact assessments, community-based processes and urban regeneration.
Technological edge
In the early days, architectural design was done with pen and pencil on large boards. Nowadays drawing and design work is all logged, rendered and shared digitally, able to accommodate unlimited variety and quick changes.
With the advent of 3-D printing, online tablets and automated building construction processes, Hamilton sees the profession's technological progression increasing in pace. "The industry has benefitted from a development revolution which is only going to become more intense. SVA International's differentiation is that we are surfing that wave, as opposed to standing on the shore. I envisage digital technology as an ever more important aspect of the business."
SVA International keeps staff up to date continuously with structured in-house training which ensures high standards of project delivery and efficiency. Additionally, the firm operates within the parameters of a practice manual first developed in 1970 and updated annually which prescribes technical and project management quality and procedures.
Overall, the wealth of knowledge and experience built up over the years, learned and shared in collaboration with partners, has enabled SVA International to be among the most productive, commercially effective and innovative turnkey architectural practices to support the progress of the South African building and property development industry.
---